K.P.S. Hajara (1998) zat toen haar Apeksha-traject startte in 2008 op de school Uswathun Hasana Maha Vidyalaya en was daar meestal de beste van haar klas.
Hajara is een vrolijke, slimme jonge vrouw. Ze slaagde in december 2017 voor haar A/L examen (Business stream) met goede cijfers. In maart 2020 zette ze – net als de andere pupillen – op verzoek van Henny een zelfintroductie op papier.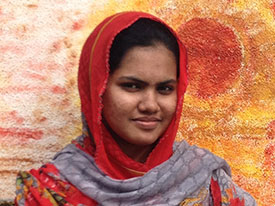 I'm Hajara and I am 22 years old. I got married on 4th of April 2019. As my parents are no longer alive I had to marry at 21 years. I have a younger sister who is attending 9th grade in school. After the death of my mother one of my aunts took care of both of us. My aunt is a widow and she goes to a simple work to take care of her children and us. That is why I decided to get married so that I can live separately along with my sister and not be a burden to my aunt anymore. Now, my husband, sister and I live in my mother's house. My husband is Mohamed Nifras. He works in Sadaharitha plantation LMTD. He is now handling our household expenses. Now we have a new member in our small family. Recently, I gave birth to a baby girl. she was named Haya Manal. She was born on 28th of January 2020. I'm happily living my married life.

In the past 2 years I did my O/L's in 2014 and I successfully passed it. I did my A/L's in 2017. After that I did a "Diploma in English" course in NIBM institution from November 2017 to April 2019. There were 3 semesters in this course and I completed it. At last I had to hand over a Research which will be the final research before I get the diploma. I had to hand over this research in April 2019. But I unfortunately couldn't submit it as I got married in April. After that I had less chances as I got pregnant. Not only that but also this research is a hard task .It required so much information which should be real. But, I however did the research proposal and handed it over. After that, I spoke to the course director. He told that I could submit the research this year. Then, I will be able to get my diploma. I did another course which is CCS in NIBM itself. It is a 4 months course I did my final exam in CCS course and got through that exam. I received a certificate in 2018 for that course. After these, I attended an English class when I was pregnant from September to December. I received some extra knowledge. Moreover, from January 2019 to December 2019, I also did a stitching diploma. They taught us how to stitch do handworks. I got through the finals in that too.

I have a lot of hopes for my future . Firstly, I should submit my research and take my diploma certificate. I have an idea to start a small Nursery and teach kids. So, I hope to do either a nursery course or a primary teacher training course. also, if I get an opportunity to become a teacher in an international school for primary students, I wish to join too. My plan and ambition is to be a kindergarten teacher or to run a small Nursery. Further, I've also got an idea to do tuition classes for kids at my home itself. These are my future plans for now. I think Apeksha has always helped me fulfil my dreams.